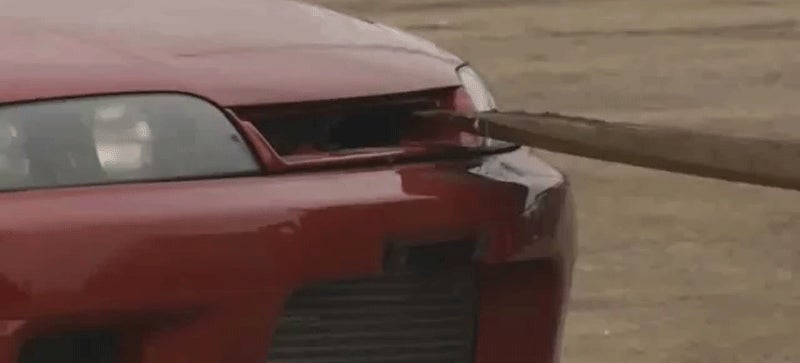 "I knew it could be crushed," Billy Crider told me quite simply. "I never hid that from anyone." What's more complicated is why he bought a car that the Feds could (and did) eventually take away from him, and what legal confusion let him keep the car for so long.
Earlier today, I posted an article where I said that Crider, the owner of a 1995 Nissan Skyline recently crushed by the Feds for violating America's horrible 25-Year Import Rule, didn't know that his car was illegal.
http://jalopnik.com/watch-the-feds…
I took that from a line from the website Speed Society, which had spoken with Crider earlier. Speed Society wrote that "Billy didn't know that he was doing anything wrong."

But according to Billy, that's not what he told them.
"I was always open about it being gray market," Billy told me in a Facebook chat to clear the whole thing up. "What I said to them was I never thought the Feds would show up in Ohio of all places lol, plus there was no vin swapping, or fraud in any way, so technically I didn't do anything wrong, which is why I didn't get in any trouble."
Billy's predicament highlights the strangeness of America's import laws. If an illegally-imported car makes it through onto American shores, it sometimes encounters little legal resistance after that.
http://jalopnik.com/here-s-how-peo…
"The state had no issue inspecting it and titling it or insuring it," Billy said. "Cops loved it lol."
Indeed, a 1995 Nissan Skyline is no more dangerous or dirty than any other car of the era. Safety and emissions testing wasn't a problem for Crider, and the car only got flagged after he filed an insurance claim on the car and State Farm recognized it didn't have a 17-digit VIN, as you would find on a car originally sold in the US, or one that was legally modified to comply with US regulations. That's the case for the Nissan Skylines federalized by a company called Motorex. It was simply built to comply with different safety and emissions standards than the ones in the US, so it isn't allowed in the country.
Well, that's not exactly the case. It can get into the United States, but it can't be used on public roads. That's something that Billy knew; he signed a document explaining as much.
This was sent in by a reader and member of the Dayton Ohio Cars Facebook group, on which Crider is active. It shows Crider signing a document with Bullet Motorsports, the Florida dealership which sold him the car (and which was noted in the past for selling the oddball Mosler Consulier GTP), verifying that his car is not legal and could be crushed at any time.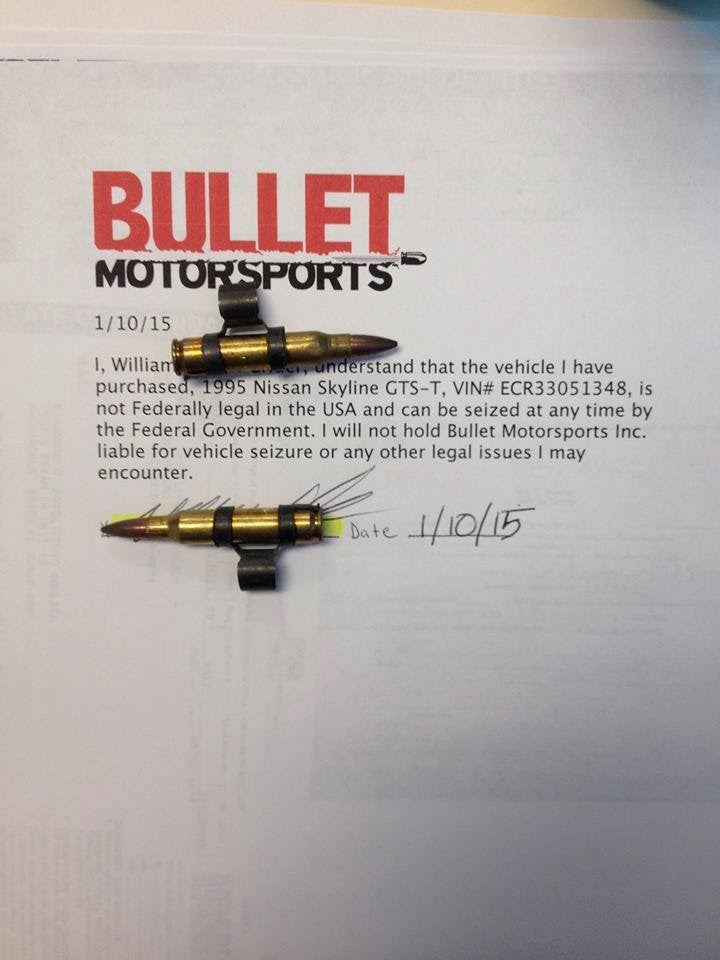 Crider explained the document to me, saying "all that paper says is its not federally legal and that I can't hold them responsible if it gets seized." He went on, "They're all illegal, that goes without saying."
The only question that remains is, if he knew the car was illegal, if he knew it could be seized and the Feds would crush his $20,000 car, why buy it in the first place? Crider explained it pretty clearly to me:
"I'd take getting blasted in the Skyline over a Miata any day lol."
---
Contact the author at raphael@jalopnik.com.