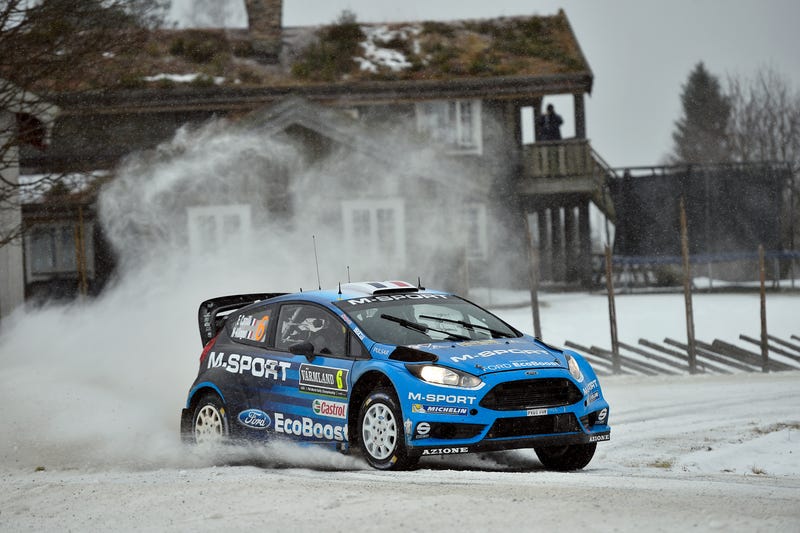 Just two races into the FIA World Rally Championship season, a disagreement between drivers and organizers led to plans for a boycott by competitors. That plan failed to materialize, but did get nearly half of the stages cut from the rally.
Due to unideal weather conditions for the snow event and what drivers viewed to be a "lack of consultation" by officials on safety regulations at Rally Sweden, Autosport reports that crews met up at 6 a.m. local time to discuss driving straight to the second leg of the rally—under non-race conditions, of course—and skipping the opening leg. The plan went to waste when Hyundai driver Hayden Paddon decided not to join in on the boycott, according to Autosport.
Defending series champion Sébastien Ogier called for a cancelation of the rally altogether earlier in the week as well due to the unseasonably warm weather, but organizing bodies said the rally would occur as planned. Other than driver safety, a major concern voiced about running without enough snow or ice was destruction of the course roads by specialized tires.
The spikes in snow tires have the potential to damage roads and make them unusable, and WRC later announced that it would chop a few stages and use a "revised route" for that reason. The move took nearly 100 kilometers off of the event, reducing Rally Sweden from 21 stages to 13.
As for the boycott, Paddon told Autosport his decision to mess up everyone's rebellion plans wasn't just a personal one. He and his team agreed with the argument on the drivers' side, but not with the method. From Autosport:
"The other drivers wanted a commitment at six o'clock and I wasn't prepared to risk my job at six in the morning.

"Of course, I agree with the principle of what we're debating and I think the drivers should be involved in that process, but if you're going to make a protest, then you have to actually threaten on what you're going to do and then you do it. …"
WRC and the drivers did end up getting the rally underway, and Ogier currently leads the event by 17 seconds (big surprise) after Stage 17. With the cuts, only two stages remain in the event—20 and 21.
Somewhere in here, there's a joke about driving somewhere in the snow, uphill both ways. Or not doing that, since there wasn't too much snow to begin with.
---
Photo credit: Massimo Bettiol/Getty Images
Contact the author at alanis.king@jalopnik.com.