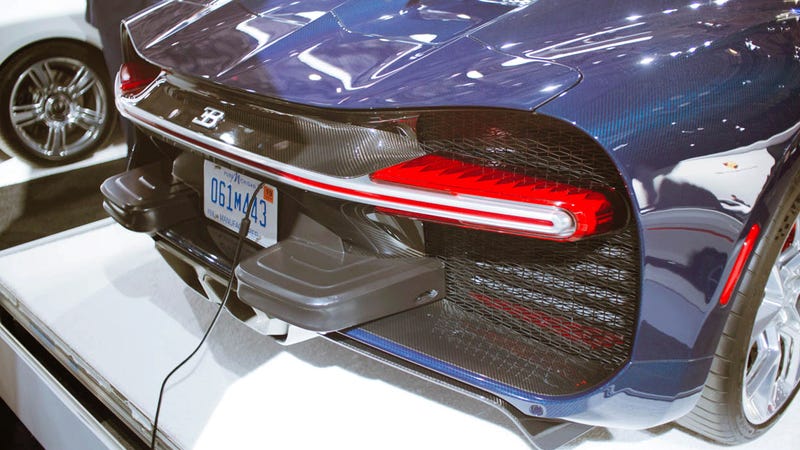 Bugatti is taking part in an old and beautiful tradition for European supercars, where the versions that get sold in the United States get adorned with massive black chunks of rubber. This has been happening since the mid 1970s, and it's touching to see the practice continuing to this day. We finally got to inspect the Chiron's U.S.-only bumper tumors in person, and it's humbling.

Interestingly, it's not U.S. federal regulations that are demanding these massive chunks of rubber—it's for insurance reasons, at least according to a Bugatti representative our own Raphael Orlove spoke with at the Bugatti stand at the New York Auto Show. They need low-speed bumper protection, which means the big rubber lumps. As a manufacturer, they can't remove them. The owners are another story.
The two blocks look sort of like huge ice cream sandwiches covered in the blackest chocolate coating known to man, and stick out from the back of the car a good six inches or so. It looks like they'd make decent seats, in case you decide to take your Chiron tailgating.
Also notable are the very visible screws used to affix the rubber oblongs to the car, suggesting that Bugatti is sort of giving a silent nod to owners to go ahead and have your valet unscrew those unsightly things and throw them into the exotic animal enclosure. I'm sure the albino gibbons will enjoy playing with those.
To confirm this, Raph brought this up to the same Bugatti representative at their show booth. Here was the exchange:

Raph: I see that you have exposed screws……

Bugatti Rep: ….yes?

Raph: Do we…understand each other?

[mild laughter]

Bugatti Rep: Yes.
It's worth noting that the two blocks seem to be part of one contiguous piece, connected by the license plate mounting panel. If removed, presumably there's provisions to mount a U.S.-spec plate in the same area Euro and other plates are mounted? We'll have to research to see.
So, I wouldn't expect to see these on many cars outside of a Bugatti showroom, even in America. That also makes me wonder if we'll be able to buy them cheap on Craigslist? I wouldn't mind a set for my car.
So many legendary (and not so legendary) cars have come to the American market wearing these big-ass black rubber afterthoughts, that it sort of makes me like the Chiron more to see that it has these.