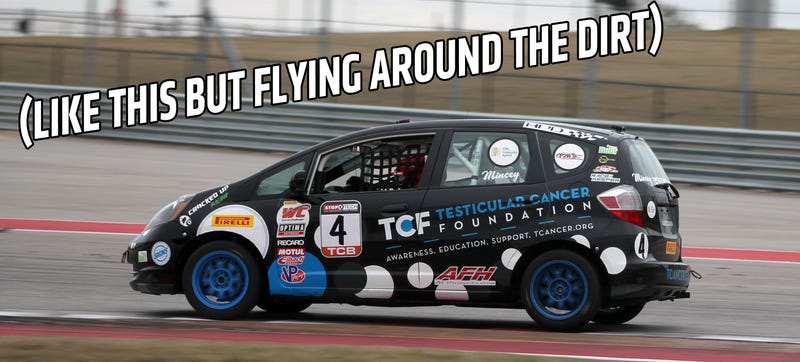 The Honda Fit is kind of an underrated machine. It's not powerful, but with a manual it's reasonably fun to drive as well as practical. Now let's imagine it with 600 horsepower, all-wheel drive, and flying around on dirt and asphalt. Even better!
If this image excites you, get even more excited, because Honda is said to be next to join the ridiculously fast-growing Red Bull Global Rallycross, reports Autoweek. The news mag reports Honda will join Ford, Volkswagen and Subaru, and it will build its own cars.
A formal announcement could come as soon as next month's New York Auto Show; for now a Honda spokesman would only confirm a possible entry into GRC as soon as next year.

It's not clear what the competitor car will be quite yet, but my money's on the Fit; the current Civic seems a bit too big for all that rambunctiousness.
Either way, I hope it becomes a reality. GRC is blowing up in viewers and races, and more competitors will only serve to further spice things up. Plus, more fun Hondas. That's good.
Photo credit Stef Schrader/Jalopnik
---
Contact the author at patrick@jalopnik.com.