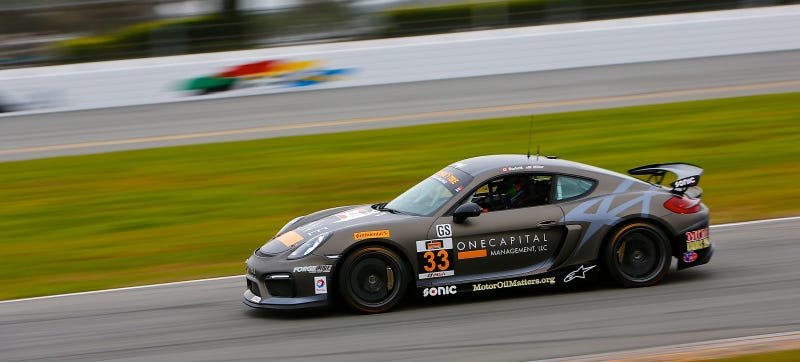 We debate the best and worst race car liveries–the decorative schemes that make race cars look distinctive and give visibility to sponsors—to the point where punches are thrown and tears are shed. But how are they made? To answer that question, we asked graphic designer Andy Blackmore to take us through the process.

The folks at CJ Wilson Racing were happy to let us use their car as an example, as they just took delivery of a new Porsche Cayman GT4 Clubsport to run in the Continental Tire Sports Car Challenge.

Blackmore, who you my recognize from the helpful Spotter Guides for various sportscar series, did the all-new dark grey livery for the car, which the team has dubbed "Darth Cayman." Blackmore's background is in car design and styling, which he's successfully translated into dressing race cars up for competition, as well as a number of other things race teams need, like clothing design, sponsorship decks, team identities, and hero cards.

Here's how Darth Cayman came to be.

Getting The Concept Down


Turns out it's way more corporate than you'd think.
Every livery starts with a brief: what does the team want to see from a livery, which sponsors take precedence and what are the major goals they want to achieve with their design? Is the focus more on a specific logo, or is it on incorporating that logo into an overall design?

"Not everyone has a brief, so that can also be a challenge in itself," Blackmore explained. "You've got to really get inside their heads."

Liveries can be very basic and clean, such as the Gulf-sponsored Aston Martins in the World Endurance Championship, or more detailed and complex, like nearly every Ken Block rally or rallycross car in existence. Clean, elegant liveries often use the car's body lines, and more graphical and abstract ones may not.

Blackmore says that it's important to understand what a client doesn't want, first and foremost. If there's anything a team hates and doesn't want to see, that helps narrow down options considerably.

"You really need to understand the team, and secondly, the sponsors." said Blackmore. "The sponsor's normally the driving force as to what they want from a livery, and how they want to use it."
Then there's the task of getting art of the car into a format that's easy to work with. Usually the manufacturer or team supplies Blackmore with line art of the car to use as a canvas, however, some are more helpful than others with this.

In the cases where a manufacturer doesn't release enough information, Blackmore can usually find it online, or construct a blank version of the car based off of photos anyway. Photos of cars are taken from far away with a long lens to flatten everything out for line art, and measurements are taken to ensure that everything is accurate.

Fortunately, Porsche was really helpful with this, and Blackmore was able to get the line art right away. It was still a challenge as it was a brand new car, though. Team manager Andris Laivins took a ton of photos of the car once it was delivered to ensure nothing had changed.

Finalizing The Design


Blackmore usually has three rounds of design with his clients. Usually the first round consists of a few rough concept sketches to explore different directions with the client. (By client, in this case he's referring to the drivers, manufacturers, teams and sponsors who all have a stake in the livery.)

This finalization process can take as little as four to five days for a rush job to a few weeks if additional sponsor and stakeholder feedback is needed. It's a significant challenge for Blackmore to figure out how long a design should take at the start of a project, both for his own scheduling as well as to set expectations for a team.
Certain elements, such as series branding, must always be incorporated. Different series have different requirements for series sponsor logos and other items, such as number panels and leader lights. Getting the correct size and placement for these elements is extremely important when it comes to designing a car around it.

Some of the most fun Blackmore's had are for the series with the least amount of requirements. A Vauxhall charity rally car for $250 bangers got a sweet Flinstones theme, for example.
In the Cayman's case, Blackmore skipped this first round, as he not only had a discussed the new car's livery during last fall's race at Circuit of the Americas, but also had an already established working relationship with the team, having done liveries for their MX-5s before.
Blackmore had already tested out different treatments of the CJ Wilson Racing logo on their previous car as well, giving him a head start on the Cayman design. Something he finds important is conveying a sense of speed, and angling the star with the contours of the car certainly accomplishes that.

Many teams don't have a strong team identity as their cars get covered with branding and sponsorship, but certain ones, such as Turner Motorsport, do. "[Turner Motorsport's] blue and yellow is a very strong identity. Everybody knows that," Blackmore explained. "The challenge is when you get another sponsor: to retain that Turner Motorsport look."

To Blackmore, it's important to be consistent with branding when growing a team. "This also allows a team to enter a different car, series or sponsor and still be recognized as the same team," he explained.
Fortunately, the CJ Wilson Racing team is unique. Wilson is known in pro baseball and motorsports, so incorporating his star logo into the design was paramount.
In the Cayman's case, the star went on the rear fender to allow room for sponsors and series branding without straying too far from the look of a CJ Wilson Racing car.

It's also important to take a look at what the other teams on the grid look like and try to pick colors that will stand out. White often looks very amateur if you're not careful with the design, as many customer race cars such as the 911 GT3 Cup come in plain white by default.

More importantly, you don't want a red car if half the grid is red. Having a car that stands out isn't just good for sponsor visibility, but also makes it easier for team members, series personnel and spectators to spot the car. (The temptation to re-do my Guards Red 944 in lilac rainbow sparkles is real.)

Moreover, a designer must understand the products represented by the car and how the car will race. "Your first thought wouldn't be to do a drift-style livery on a Bentley Continental," said Blackmore.

The Porsche Cayman sells to a different market than the team's previous car, so the decision was made early-on to make the livery feel more upscale, but still tied to the team's bright, wild prior designs somehow.

"The Porsche is a is a different product, a high-end product—more of a premium product," explained Blackmore. "With the Cayman, when you see it, it will look more high-end. That was a conscious decision that was important to do."

This meant leaving space for sponsors without too many graphics underneath. The look would be cleaner, with more use of negative space—as in, blank space without anything more than a solid color in the design.

Round two of the design process consists of locking down a general theme or design to develop further and then doing a couple more versions to pick from with more detail.

The Cayman had an intermediate design where Blackmore could have some fun with a more open slate. This design was used to announce the team's new car before all of the sponsors were finalized. Blackmore explains:

This was purely to announce the purchase of the two racecars and as such the CJW Star was a little larger and the door was deliberately had negative space to show sponsors to be announced, plus open space for any potential companies looking. We had already decided to add a black "sponsor" bar along the bottom, which is becoming common on show cars such as those at SEMA. This gives clarity to smaller partners. The tie-in with Porsche is important, so we retained the GT4 Clubsport script and added a stretched CJW Star on the top of the opposite fender.
The last round is where things truly get narrowed down and elements on the car become more balanced. One of the biggest challenges for a designer is understanding how graphics will translate into 3D forms.
It often depends on the car, too. Cars like the 911 and Cayman are quite curvy, and things that look fine in flat renders often twist and curve on the Porsches. The BMW Z4s create a similar challenge with their numerous steps and ridges.
To make sure everything would fit right on the car, Blackmore took a print of the giant CJ Wilson Racing star to Porsche Centre Langley, which was fine letting him line up the star on the side of a Cayman GT4 on the showroom floor. Even though Langley, British Colombia, is far away from the team's base in Austin, Texas, this allowed Blackmore to tweak the star based on a real-life model and ensure that it would fit and look correctly on the car.

How much a sponsor will let a designer tweak a logo is up to each sponsor. "For me, clarity of partner logos is really important and something which is often forgotten in this age," explained Blackmore. "It's all subjective and down to personal taste."
Some partners want no changes whatsoever to their logo, but others are fine with allowing changes to ensure their logo is legible. Blackmore can add keylights on the logo, adjust the color or proportions of a logo, or even use a contrasting color with the background to make a logo pop. Sometimes these changes are approved, and other times they aren't.

Sponsors tend to be finalized by this final round, which means that their placement has to be taken into account. Small logos don't necessarily mean that a sponsor is less significant than one with a larger logo. The front of the car is often seen as preferable to the back, and some sponsors, like Forgeline for the Cayman's wheels, like to have their logos near the parts they supply.

The final round of the Cayman's design saw the introduction of One Capital Management as a significant sponsor, so the CJ Wilson Racing star was downsized a bit and moved further back to make room for the sponsor's wide logo. Several color options were explored before settling on Darth Cayman's signature dark palette.

"We ended up looking at a darker base hue as that ties into One's corporate branding, but also elevates the entry into a more premium looking high end product," explained Blackmore.
Printing, Materials And Installation


Race car design is a collaborative process up until the very end, when the vinyl gets applied to the car.

The final design is printed with some extra "bleed" room, just in case any panel isn't lined up 100% correctly. Installation notes are included for any wraps and vinyls as well. Some graphics even need to be cut by hand to fit properly.
An important element to consider in livery design is that materials that go outside the car have gotten as high-tech as those that go under the hood. Everything from hand-painted details to high-tech wraps are options in a livery design, depending on the car and where it will run. Paint will always produce the most intense colors, but vinyl is a good, cost-effective way to get what you want on a car.

Wrap vendors have myriad colors available, so it's often important to cross-reference the Pantone values of colors to ensure you're getting the right color.

Companies like Avery and 3M make all sorts of vinyls in mattes, metallics, satin finishes and chromes as well. Another similar product is Aero, which is a paint film that gets applied like vinyl. Clear matte vinyl overlays can create cool effects with a subtle sheen under the light, but as with every other part of the car, you have to keep in mind that each additional vinyl layer adds weight. Screenprinting a design into vinyl or Aero paint film can save a lot of weight.

"On the CJ car, that's going to work with a graphite—a satin or matte graphite against a gloss black," Blackmore said. "You play with colors, but you also play with material finishes."
A good livery may seem like the last thing a race team should worry about, but being happy with the car means being happy with all of the car, including the exterior.
After all, everyone always talks about the coolest-looking cars on the grid, regardless of the results.
Photo credits: MotorSportMedia (photos of new car, Turner Motorsport), Andy Blackmore Design (renders, examples)


---
Contact the author at stef.schrader@jalopnik.com.