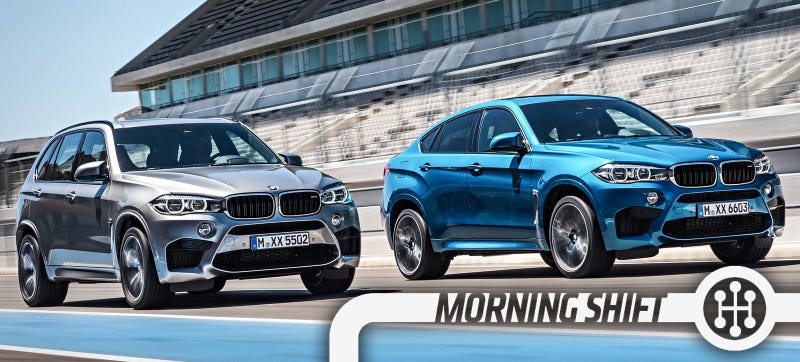 Good Morning! Welcome to The Morning Shift, your roundup of the auto news you crave, all in one place every weekday morning. Here are the important stories you need to know.
1st Gear: Loaners, Loaners, Loaners
The "top-selling luxury automaker" title is highly coveted among… um, luxury automakers, and last year saw BMW come ahead in a tight race with Mercedes-Benz and Lexus. How did they do it? Paying dealers to "buy" cars for loaner fleets, given to customers when they bring their cars in for service. Via Bloomberg:
Other carmakers have used similar tactics. But BMW has been unusually assertive, according to people familiar with the matter — so much so, in fact, that it might have lost No. 1 bragging rights to Toyota Motor Corp.'s Lexus without the strategy.

BMW paid its dealers as much as $1,750 a vehicle in December to put new models in their service fleets, the cars owners use when their Z4 convertibles or 7 Series sedans are being worked on. Dealers booked the sales immediately, and the deliveries helped the company hit its target, said the people, who asked not to be identified because details of the strategy are private. BMW beat Lexus for the year by about 1,400 cars and Daimler AG's Mercedes by almost 3,000, setting a record for its U.S. sales, according to Autodata Corp., a research company.

[…] BMW spokesman Kenn Sparks declined to say how much the loaner program helped sales, but these vehicles "are an important part of BMW's customer-satisfaction and marketing plan," and the company does periodically give dealers incentives to put new cars in their fleets, he said in an e-mail. "We encourage our dealers to renew their loaner fleet regularly — the newest models with the latest innovations — and have a full range of BMW models on hand."
A bold move from BMW, but one that clearly paid off. Remember, sales numbers are easily manipulated and often mean very little!
2nd Gear: Toyota Recalls Nearly 3 Million Cars Globally
Blah, another giant recall. From Reuters:
Toyota Motor Corp (7203.T) said on Thursday it is conducting a global recall of 2.87 million vehicles due to the possibility that their seatbelts could be damaged by a metal seat frame part in the event of a crash.

In an email, the world's biggest-selling automaker said that the global recall involved its RAV4 SUV model produced between July 2005 and August 2014 and sold worldwide, and its Vanguard SUV model produced between October 2005 and January 2016 and sold in Japan.

The recall includes 1.3 million vehicles in North America announced earlier in the day by Toyota's U.S. unit, along with around 625,000 vehicles in Europe, 434,000 vehicles in China, 177,000 in Japan and 307,000 in other regions.
3rd Gear: Take Your Chevy To Daytona
General Motors may not have a fancy European delivery program anymore since they kicked Saab to the curb, but starting late this year you can pick your Chevy up in Florida and hoon it around Daytona. From The Detroit News:
Beginning in late 2016, General Motors Co. will offer a car delivery experience at the famed Florida Super Speedway west of Daytona Beach that will allow buyers to pick up their new Chevy then take it on track. Accelerate your new Camaro under the starter's stand. Flog your shiny Corvette down the half-mile long back straight. Dance your V-8-powered SS around Turn 3's 31-degree banking.

The experience builds on Corvette's successful buying experience at its Bowling Green assembly plant — but the Daytona experience will be open to more Chevy buyers. Adjacent to Gatorade Victory Lane in Daytona's infield, Chevrolet has constructed a special "Delivery Center" where buyers can pick up their cars after placing their order through a local U.S. Chevy dealer. The experience will come as a priced option on select models (details are still being finalized).
Neat!
4th Gear: Volvo's Doing Quite Well, Thanks
We've known for some time that Volvo has been in comeback mode, but here's more details from Reuters (via Automotive News) on how the scrappy Swedes made out last year:
Volvo Car Group forecast record sales and higher profit this year, after strong demand for its cars in the U.S. and Europe tripled its operating profit in 2015.

The Sweden-based company said full-year operating profit rose to 6.62 billion Swedish crowns ($776.6 million) from 2.13 billion in the previous year.

Last year was the first time Volvo reached sales of more than 500,000 cars, a step toward its goal for annual sales of 800,000 by 2020.
5th Gear: Lithium Demand Blows Up
As automakers increasingly electrify vehicles (and even when some of those vehicles struggle for sales with gas so cheap) the demand for lithium is exploding. So is the mining operations required to get that lithium, reports Bloomberg:
Prices of lithium carbonate — an industrial chemical used in lithium ion batteries — have surged 47 percent in 2016 from last year's average, according to London-based Benchmark Mineral Intelligence Ltd. Two of Australia's five best-performing stocks in the past 18 months among a Bloomberg Index of 2,035 listed companies are developers of lithium materials operations. From 2015 to 2024, the market to supply lithium ion batteries for light vehicles may total $221 billion, according to Navigant Consulting Inc.



"There's a step change going on right now," as electric car sales rise and hybrid vehicles switch to lithium ion batteries, said Michael Fotios, executive chairman of General Mining Corp., which is seeking to begin exports by July of the lithium-bearing mineral spodumene from Western Australia's Mt. Cattlin project. "Raw material supply hasn't kept pace, and probably can't keep pace with the projected demand."

Perth-based General Mining, with a market value of A$89 million ($63 million), has seen its shares rise more than 1,000 percent in Sydney trading since it announced a plan in February 2015 to resume production at the previously shuttered Mt. Cattlin. Pilbara Minerals Ltd., with a market value of A$286 million, is accelerating development of its Pilgangoora project in Western Australia and forecasts production from about 2018. The company has advanced about 1,200 percent since it acquired the site in July 2014.
Reverse: RIP Dale Sr.
http://www.history.com/this-day-in-hi…
Neutral: Is Selling Loaners To Your Dealers Cheating?
Or just smart tactics to impress customers and pump sales numbers?
---
Contact the author at patrick@jalopnik.com.