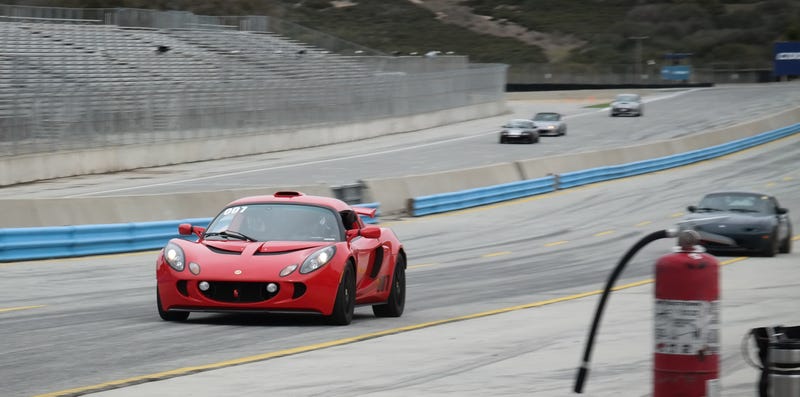 How does one end up at a track day without a car? In my case, it was because I foolishly agreed to ride shotgun across the country from New York to California, in a smelly friend's Ford Fiesta ST, all so he could do a track day at Laguna Seca. But I'd be be damned if I wasn't going to make an event out of my circumstances, and here's how you can too.
If you somehow find yourself at a track day without a ride, and you haven't signed up for the event, and are not volunteering in any measurable way, well… it sounds like you really messed up. But hey, it happened to me, and I'd almost encourage you to do it as well, because there is still one very important thing you can do: ask for rides.

At this Laguna Seca track day hosted by Speed SF, who did an incredible job of organizing the event, there were 156 entries done through MotorsportReg.com and four different run groups that stretched from Novice to Advanced.
Between the picturesque location and the storied motorsport heritage, Laguna Seca is an incredibly special place to be. And it feels even more special when you get there at the crack of dawn, just as the sun is just rising above the mountains that surround the track.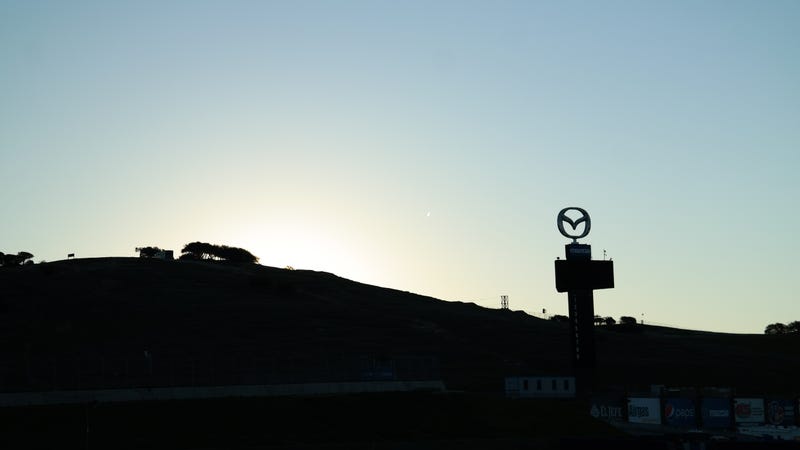 There were cars from all ends of the enthusiast spectrum. Stock BMW E36 3-ers, a Mini Countryman, Mazda Miatas of all generations that ranged from slightly-prepped to Spec Miata, multiple fresh-off-the-lot Porsche 911 GT3s, a Ferrari 488 GTB, and even a brand spanking new Dodge Viper ACR.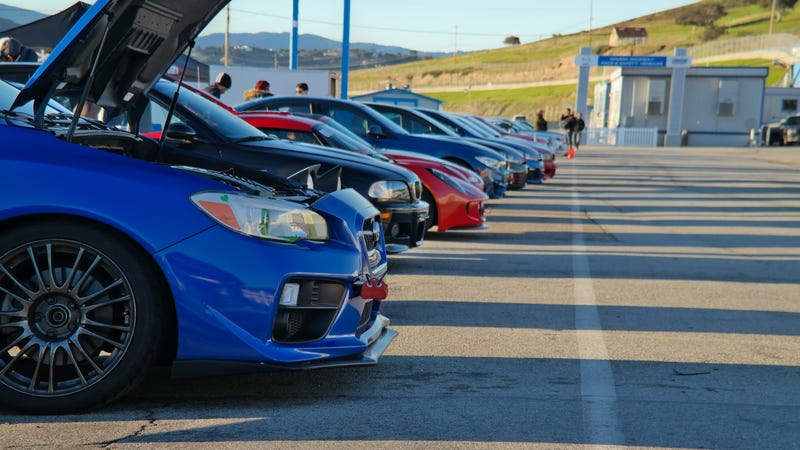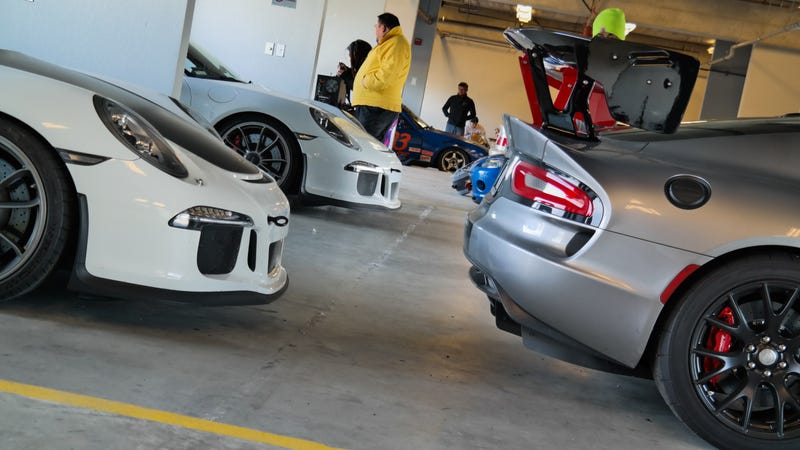 After walking through the paddock and picking my jaw up off the floor, I realized I would have to keep myself occupied until four in the afternoon, when my friend Brian the Fiesta ST pilot had his last session. This wouldn't be too hard.
Whether you're driving a car at a track day or you just happen to be there, spend some time early in the morning or outside one of your run sessions just taking everything in. Where else do you have the opportunities to watch supercars, race cars, and low-cost Craigslist beaters sit in a line as they wait to get a final track prep? Certainly no Cars and Coffee event. You don't need a car to appreciate what's around you at the track day.
Once you're done taking in all the amazing things around you, it's time to get on track, one way or another.
If you're here with a friend who has a car for the event, you are probably already planning on riding with them. If you don't have a car to take to a track event, ask a like-minded friend to come along with you and try it out.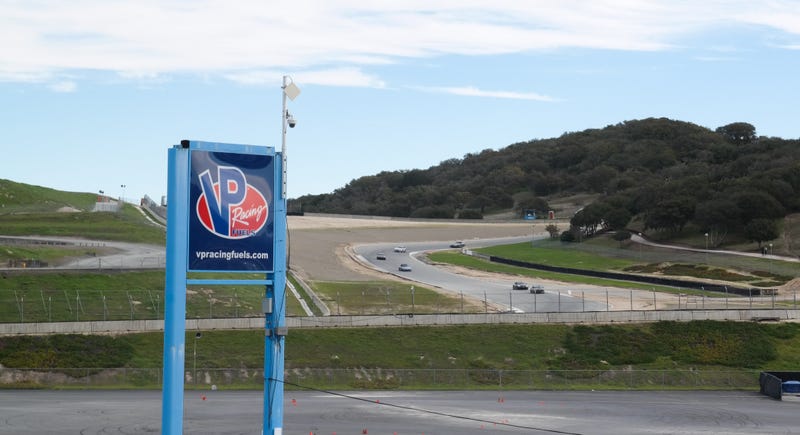 First session, I ordered Brian to give me a ride around the track in the FiST. Brian has a couple track days under his belt from East Coast tracks like Lime Rock Park and New York Safety Track, but those just don't seem to compare to Laguna Seca. Few places do. Maybe it's because of that terrifying corkscrew turn. The rest of it's no picnic either.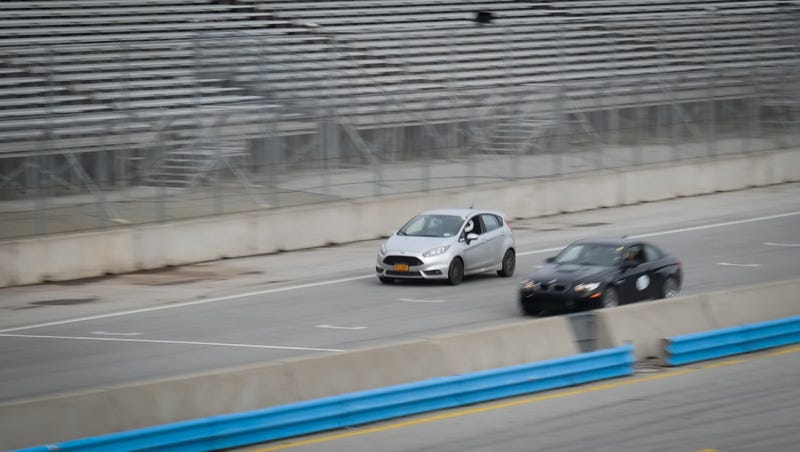 As Brian got more and more comfortable with the limits of his car on track in the first session, I got thrown more and more from bolster to bolster in his Recaro sport seats. Exhilarating, yes, but also undeniably slightly terrifying with a driver that had not yet driven the track. At least not outside of Forza.
A track that has runoffs which are just dug up holes in the ground that could easily ruin your car. And just from the passenger's seat, a quick lap around Laguna Seca doesn't feel all too confidence-inspiring. That was all okay though. It was incredibly worth the slight nausea and the emotional distress.
If, for whatever reason, you're at the track day without a friend or without a companion who you can bum rides off of all day (what, did you take the bus there?), that's okay. Walk around the paddock and find a car with an open passenger seat. It's incredibly likely that if you're courteous enough, you introduce yourself, and you explain that you want to learn the track better, or tell people you work for Jalopnik (that helps), you'll find someone that will happily give you a ride without hesitation.

After coming back in with Brian, I asked a fellow named Harry if I could take a ride with him. Harry was driving a Lotus Exige S on Toyo Proxes R888 tires.
After watching him in one his earlier sessions, I came to the conclusion that he was one of the smoother, faster, and better drivers out on the course that day. When I asked him for a ride-along, he happily obliged.

Lotus people, in general, are good people.
Before heading out, Harry warned me that he "wasn't as fast or experienced as some of the other drivers out there," I shrugged and said, "that's alright with me!"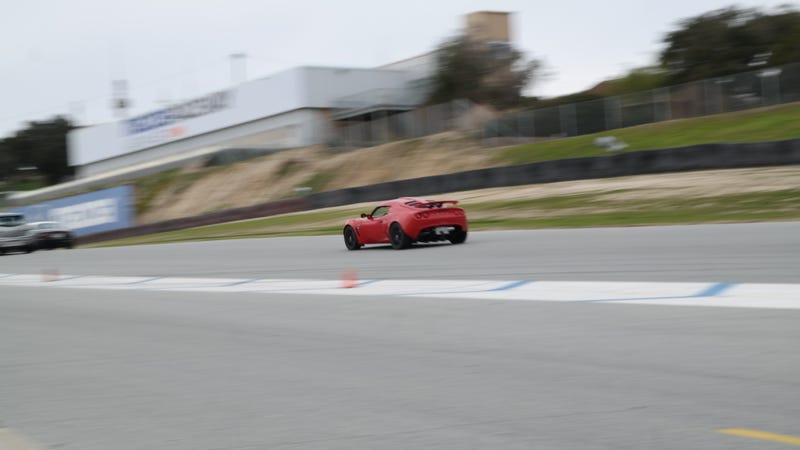 Harry lied to me.
Each time he passed start/finish his lap data would come through and show nothing but smoothness and consistency. Those laps may not have been the fastest that day, but in a light-weight, mid-engined, supercharged track demon like an Exige S, smooth is very, very important.
In some corners Harry's lap computer recorded the Exige S pulling an intense 1 G+ of force. Not unheard-of or out of this world for a proper track car, but from the passenger seat, a crazy sensation. Especially in such a bare-bones, low to the ground feeling car like such.
Flying over the crest at Turn One at the end of the front straight at speeds touching 120 mph was magnificent. Harry consistently held a line on the left side of the track, close to the pit-exit lane as he crested, then tracked right to properly set up for the Turn Two apex.
At those speeds, feeling the Lotus become light then heavy again on its suspension, the tires get grippier and grippier lap after lap, and watching the rear spoiler shake rather violently as aero began to become a factor is just amazing. And honestly, not something that can always be done from the driver's seat.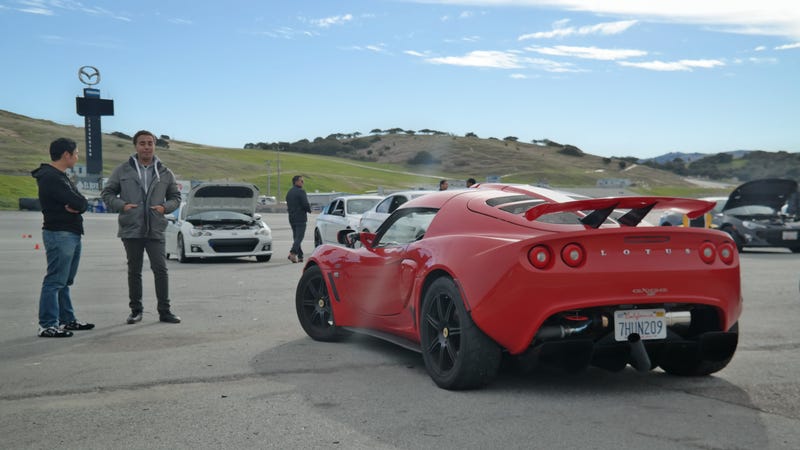 After the 20 minute session in the Lotus was over I thanked Harry for letting me ride passenger with him, talked cars a bit, and left to walk around the paddock to find another ride.
If you're out there on course, sure, enjoy the sensations of being thrown around your seat by all the g forces, but also, remember you could actually be learning something. Pay attention to the driver's inputs. Throttle modulation and control, braking zones, how they turn in, where they enter and exit corners to apex. These are all things that can help you once you finally get a car of your own and are out on that track with an instructor.
And when you finally come back in, don't forget to say "thank you" to your new track buddy.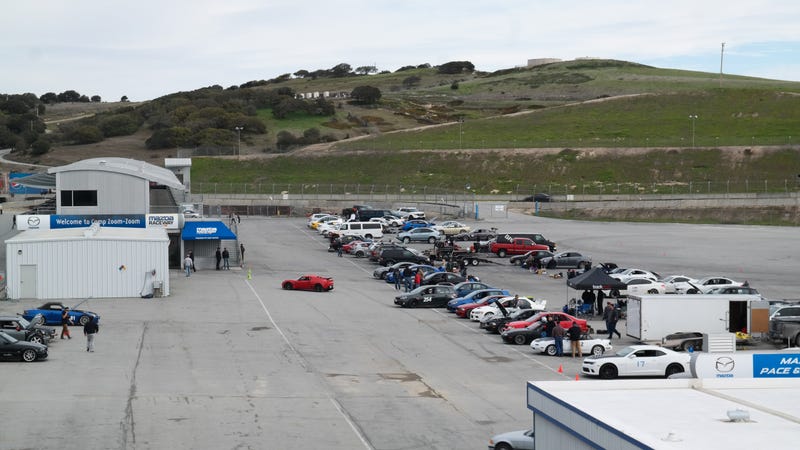 There's risk to all of this. People go to track days to learn how to drive fast. As many instructors might tell you, there's the risk of being out there with a potentially inexperienced driver. Find someone, maybe an instructor, who knows the track or who you're comfortable with riding with. Be a good passenger, and by that I mean try not to scream, panic, or throw up while out on track. Just have fun with it.

http://oppositelock.kinja.com/please-stop-ki…
It's rare that you would find someone at a track day that would decline to give you a ride along, besides the ones that have already pulled their weight-adding passenger seats out. Experienced drivers are almost always willing to lend a tip or show you around to help educate a novice. Speaking of education, taking track laps from the confines of the passenger seat is also great way to learn a track as a novice.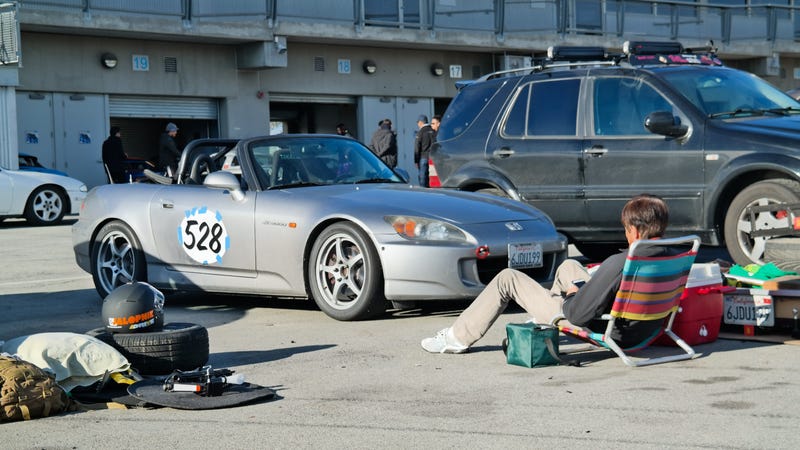 These experiences were all amazing and it was all because I brought my helmet along and asked a couple good drivers for rides. In the end, it was better than any Cars and Coffee event I've ever been to.
Also, holy hell that Lotus was quick.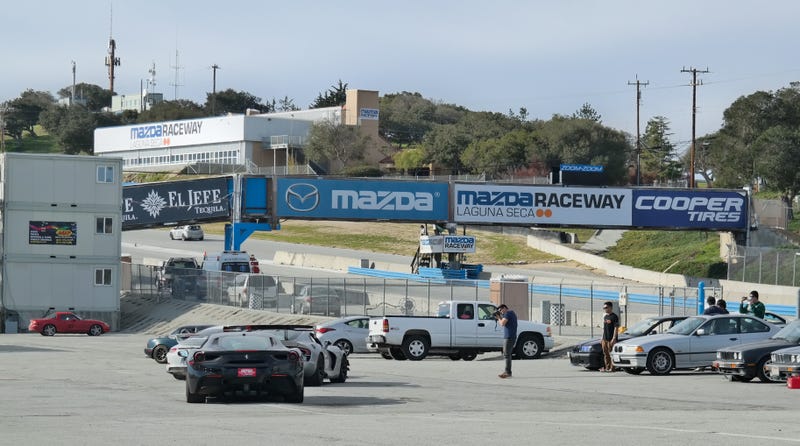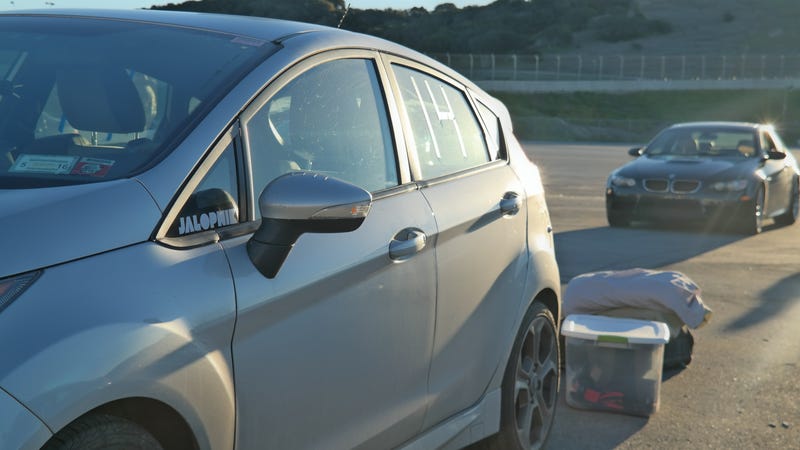 Photo credit: Brian Silvestro