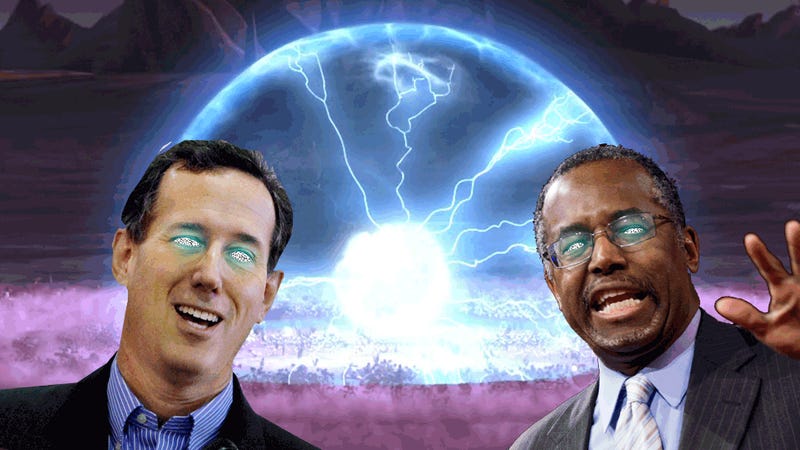 I am not sure what the deal was during last night's debates when it came to some of the candidates wanting to share their wonderment with electromagnetic pulse (EMP) weaponry. We got it during the undercard debate early on via Rick Santorum, and then again by Ben Carson.
The top video is of Santorum's EMP proclamations, and the second video is of Carson's. It is almost as if they are describing a cool new phone app than a potential weapon of mass destruction.
A little background may be needed here. The type of EMP weaponry these guys are talking about comes in the form of a nuclear weapon that is launched on a high ballistic trajectory above a targeted country, in this case the United States, and detonated in the upper atmosphere. This is referred to as a High-altitude Electromagnetic Pulse (HEMP) weapon.
Such a nuclear device, once detonated in the stratosphere, emits a sudden pulse of radiation that interacts with Earth's magnetic field, intensifying its strength, and sending voltage and current surges to unshielded electronics over a wide area below.
The HEMP concept is decades old, and it is indeed a scary idea, although there is debate as to how effective such a weapon would be and how large an area it would actually effect under real-world conditions. Then there is the delivery method, which is a ballistic missile capable of reaching high-altitudes over the central United States for maximum results, which is pretty complex.
EMPs have increasingly been a source for science fiction fodder and they have become a top fear among the so called doomsday-prepper community. These fears are not totally unfounded, and even an intense solar flare can have similar affects.
But it remains one of many semi-apocalyptic threats out there, although its seemingly asymmetric nature is intriguing.
Worst case scenarios posit that a large portion of the U.S. could lose electrical power and a majority of electronic devices. It would roll-back American society to the pre-electric era, and it could take months, or even years, to turn it around. This is due to key components of our electric grid not being shielded from such an event, solar or weapon caused, although there are some in Congress who want this changed.
But once again, this is the worst case scenario put forward by some. If such a device were ever successfully deployed, it would more likely have a regional affect with varying results. Still, it could be deadly and economically punishing.
Yet one thing to remember is that whoever executed such an attack would pretty much be signing their own death warrant, as it would likely elicit a robust nuclear response by the U.S. This, combined with the fact that it takes a lot of technological know-how, as well as nuclear weapons capability, makes such an attack less probable than many would like you to believe, especially by non-state actors.
There is also the fact that such a nuclear device could be delivered in a traditional manner, such as attacking a major city, via cruise missile, infiltration or ballistic delivery system, with much more certain results. With this in mind, going for a HEMP strike seems illogical.
The fact of the matter is that we are far more likely to lose power and have major infrastructure failures due to a cyber attack than a HEMP, and such tactics are much more accessible to our enemies than ballistic missiles and miniaturized nuclear warheads tailored for for EMP effects. In fact, the first cyber strike of this kind just happened in Ukraine, when portions of the country's power grid were attacked by Russian hackers. Experts are warning this is just a sign of things to come and even the U.S. government itself acknowledges that the U.S. is vulnerable to a similar attack.
http://foxtrotalpha.jalopnik.com/this-book-reve…
If anything else, the rapid rise of cyber warfare capabilities and the ease in which cyber weapons can be designed has made the HEMP attack from rogue states, or even terrorist groups, far less likely than it was in the past. We also have a missile defense system that was built to counter such threats. Although it is not perfect, it does provide a screen against low-volume ballistic missile strikes.
There are supposedly other ways to creatively deploy such a weapon, like from a ship near the target country's coastline, or even by a satellite already in orbit, but these concepts represent their own technological and fiscal challenges.
In the end, nowadays it is a lot cheaper and easier trying to instantly put large portions of America back in the pre-industrial age via a bunch of eggheads in a room full of computers than via a nuclear weapons and ballistic missile program, although it doesn't sound as magically terrifying.
Contact the author at Tyler@jalopnik.com.