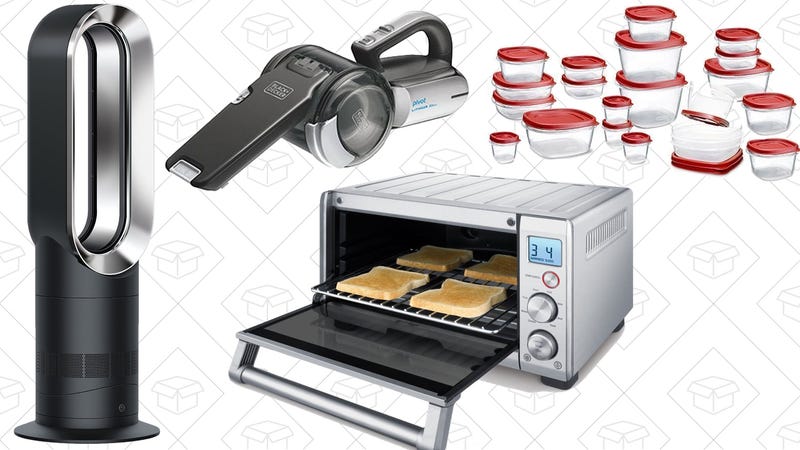 The best prices on Breville toaster ovens, a discounted Dyson fan heater, and the Black+Decker Lithium Pivot Vacuum lead off Saturday's best deals.

Bookmark Kinja Deals and follow us on Twitter to never miss a deal. Commerce Content is independent of Editorial and Advertising, and if you buy something through our posts, we may get a small share of the sale. Click here to learn more, and don't forget to sign up for our email newsletter.


Top Deals
If you want your cool and hot air to come from one sleek piece of machinery, Dyson's AM09 Hot + Cool Fan Heater is it. If you don't mind a refurb, and you shouldn't, with Amazon's Gold Box deal you can pick up your own Dyson for $200, today only. This model is 75% quieter than the AM05 and has a jet focus for long-range temperature control.
---
The best toaster oven almost never goes on sale, but Amazon's offering rare disconts today on four different models.

Unless you happen to own some other beautiful Breville products we recommend, it'll almost certainly be the best-looking appliance in your kitchen. I got one of these as a wedding gift several months ago, and it's every bit as good as advertised.
Prices start at $120 for the Mini model, down from its usual $150, and range up to $216 for the large convection model. I can't emphasize enough how rare these discounts are, so if you've had one on your wish list, I wouldn't hesitate.
---
Life's too short to vacuum every other day, but luckily, you can pawn that tedious chore off to a Roomba, and the entry level 650 model is marked down to $274 today on Amazon, which is $16 less than its previous lowest price.

While it does require a bit of babysitting from time to time, I haven't vacuumed my house manually in months, and yet the floors always feel clean, even with two pets.
---
If you've ever spent more than 5 seconds sorting through your mismatched food containers to find the right lid, it's time to throw them all out and upgrade to this Rubbermaid's Easy Find Lid system.

These containers come in six different sizes, and yet you only have to deal with three different lids, making it much easier to find the right one. The 42 piece set is back on sale for $16, which isn't the best price we've seen, but it's better than the $20-$25 range it had been sitting at for a few months (except that glorious day it was part of a Gold Box).
---
Preparing to roast a turkey for Thanksgiving is probably the most stressful part of the entire holiday. But grab this Cuisinart roasting rack for only $43 and you'll be smooth sailing into a tryptophan-induced nap.

---
Portable handvacs are something that every household should have, because cleaning a small mess with a giant, corded vacuum is not worth it. This Black + Decker Lithium Pivot Vacuum is lightweight and folds up completely for easy storage. And right now, at $50, it's the best price it's ever been, but this is a one-day Gold Box, so you'd better suck it up right now.
---
If you've never shopped on Amazon for fashion or jewelry, now's your chance to experience the ease and also save some money. In honor of Veterans' Day, Amazon is taking 20% off (or more) on a bunch of fashion, jewelry, shoes, and tons of other things for women, men, and kids.

---
Sure, your phone's alarm will wake you up on time, but it doesn't include an FM radio, it won't function as a nightstand USB charger, and it definitely can't project the current time onto your wall or ceiling. For a limited time, you can save $10 on this alarm clock with code G7OUQ3EO.
---
Store your valuable (or anything else you want hidden) in this discounted safe. The biometric door is fingerprint activated, can easily be mounted to the floor, and is the lowest price it's ever been.

---
Finish your basement with this JOOLA table tennis set and you'll have the perfect solution to boredom. For under $300, you get a competition-grade table and net set that can easily fold up and be stored away when you don't want to see it.

---
As long as you don't mind buying refurbs (and considering they come with a standard warranty, you shouldn't), Amazon's offering some incredible Kindle e-reader discounts today.

Update: The Amazon Echo is also available refurbished for an all-time low $120!
You're basically getting the Kindle of your choice for the price of the model below it in the lineup. That means you can get a Paperwhite for $80 (the normal price of the standard Kindle), or the Voyage for $120 (the normal price of the Paperwhite). Since these are refurbs though, I'd suspect that supplies are limited, so don't miss out.

---
What could be better than dollar socks? Probably a lot, but it's a pretty great time when Uniqlo marks down their men's socks to $1. Choose from two different styles (one of which is an online exclusive price) and a slew of colors.

---
Before you go out and flush $30 down the drain on a Yeti Rambler, check out this RTIC alternative for just $12 on Amazon today, matching a Gold Box deal from several weeks ago. It uses the same vacuum-insulated stainless steel construction, and according to this YouTube video at least, actually keeps ice frozen for longer. No-brainer.
---
Anker, producer of a lot of your favorite charging gear, has its own line of flashlights now, and the high-end LC130 is marked down to $45 today with promo code ANKERDL1.

That's a lot of money to spend on a flashlight, but the LC130 has just about every feature you could possibly want, including IP67 dust and water resistance, 1300 lumens, five lighting modes, and a USB-rechargeable battery that can last up to 6 hours. Even if you don't need it for yourself, this could make a great holiday gift as well.
---
It's the perfect time for preparing for Thanksgiving, but this Char-Broil turkey fryer bundle is also ideal for other cooking projects all year round.

Before we go any further, I should specify that this thing doesn't use any oil, so it's not really frying. Instead, it uses propane-powered infrared heaters to completely surround your turkey, chicken, or other meats with heat, resulting in crispy skins, and juicy meat in just 8-10 minutes per pound. And of course, without oil, the resulting meal is healthier, and less likely to burn down your house.
It sounds too good to be true, but over 1,000 Amazon customers have given it a 4.7 star average, and the user-submitted photos look mouthwatering. The fryer itself is only $80, but for $25 more, you get a 22-piece accessory kit as well.
---
This could be a mistake, but the Gears of War 4: Ultimate Edition for Xbox One is only $60 (which is $40 of its normal price) and comes with the physical game, a collectible SteelBook, and a Season Pass. This is probably not something to pass up while the price is this low

---
Before you head out on your next hike, be sure to grab this 1.5 L Camelbak hydration backpack for $36. That's one of the best prices we've ever seen on any of these things, so pick this one up before the deal runs dry. You even get to choose from multiple colors.

---
DSW is the destination for affordable, brand name shoes and when they have an extra 25% off on select styles, it's insane how much money you'll save. Grab boots and shoes for everyone without doing anything except shopping.
---
Club Monaco is one of those stores that you frequently stare at but never purchase from. With 20% off select "stay warm" styles, Club Monaco is about to sing you a siren song. Buy those chinos or that sweater dress. Just go for it.
---
Your favorite winter boot was the Shearling Lined Bean Boot from L.L. Bean, and that's no surprise. The Bean Boot is the iconic winter boot if there ever was one. So if you're in need of a new pair, or want to stock up on other winter essentials, L.L. Bean is giving you 20% off everything when you use the code SAVE20.
If you're not into the shearling, a pair of no-fuss Bean Boots for both men and women is under $100 with the promo, which is a steal.
---
Anker's HomeVac vacuum transforms from handheld to upright, has the impressive runtime you'd expect from the brand that makes your favorite battery packs, a washable HEPA filter, and a great warranty. That's quite a package for $86 (with code ANVACUUM), an all-time low.
This was Anker's first foray into cleaning products (the Roomba-inspired RoboVac was the second), and reviewers seem to love it so far. It'll run for 24 minutes on a charge at full power, or an hour in eco mode, which should be sufficient for most average-sized homes. The standout feature though is definitely the detachable hand vac, which lets you clean furniture, shelves, and even your car with ease.
---
Have your own rave (or just better mood lighting) with these color changing, waterproof LED lights. They're flexible and have an adhesive backing so you can use them to decorate, or for under-the-cabinet kitchen lighting for cheap. $10 is the best price they've ever been, so use the code 29ON33C9 and add a little more light to your life.

---
Anker's new home goods brand, Eufy, puts its new set of copper string lights back on sale today, complete with adjustable brightness and multiple effects. $13's not the best price we've ever seen on a 33′ strand of these things, but it's a great deal for the feature set included.
---
If you don't already own a Roku, what is wrong with you? It's basically one of the best accessories for any television. And right now, thanks to Best Buy's early Black Friday deals, you can grab a Roku 3 for half off. $50 is a steal for the perfect streaming solution for your binge watching.
---
The cooler weather is coming, and it's time to prepare. Backcountry is taking 30% off select styles from Patagonia. This does include staples like their Nano-Air Jacket and Ultralight Down Vest (plus a few summer styles leftover as well). Stock up while the prices are way low.
Plus, if you don't see anything you like from Patagonia, Backcountry is giving you 20% off any one full-price item when you use the code BC20PERCENT.
---
Mpow has been one of the forerunners of the impulse-priced bluetooth headphones craze on Kinja Deals, and their newer Antelope models feature noise cancellation 6.0 and better battery life, to name a few features. At $15 for either color, this is the best price we've seen for these.
---
It's that time again. Nordstrom Rack has brought back their Clear the Rack sale and it's full (and I mean FULL) of really incredible deals. Designer clothing, brands you've never heard of, everything an extra 25% off. Maybe that will help today be okay, who knows.

---
Amazon's Prime Pantry is here to help you get through the upcoming holiday months (and maybe stock up for the end of the world, who knows). Get a bunch of discounts, including coupons for 20-25% off and $1-$2 off select items.
As with standard Prime Pantry, buy five items and get free shipping. So stock up on everything from deodorant to spices to laundry detergent. Just clip the coupons and watch the prices drop in your cart.
---
Speaking of refurbished Amazon gear, you can also get a an Echo today for an all-time low $120, complete with a full warranty.

You might be tempted to wait for Black Friday to buy an Echo, but remember that Amazon likes to use major sale days to offer special, Alexa-only discounts on certain products, so it might be worth buying one now to have it set up in time.
---
Magnetic smartphone vent mounts are the sleekest and easiest way to prop up your phone in the car, and you can get two mounts from Aukey for $7 today with code AU2MOUNT. Even if you already have these in your own car (a pretty safe bet!), they would make great stocking stuffers.
---
This seatbelt cutter/spring-loaded window hammer is small enough to fit in any glove box, or even on a keychain, and at $5, it'd be a perfect little stocking stuffer. Just use code 7WDW2ZAW at checkout to get the deal.

---
It's easy to see why Cuisinart's DBM-8 electric burr coffee grinder is Amazon's top seller in the category. It's affordable, it's dead simple to use, it includes 18 coarseness settings, and it looks great. Today's $39 price tag is roughly $5-$10 less than usual, so perk up, and lock in your order before it sells out.
---
If price has been the barrier to entry keeping you from better audio, we're bringing back the best price ever on Status Audio's CB-1s, $67 with code KINJA20. The last time we posted this deal you bought them all pretty quickly.
Head over to this post to learn more about the headphones.
Tech
Home
Lifestyle
Gaming
Media
---
Commerce Content is independent of Editorial and Advertising, and if you buy something through our posts, we may get a small share of the sale. Click here to learn more, and don't forget to sign up for our email newsletter. We want your feedback.