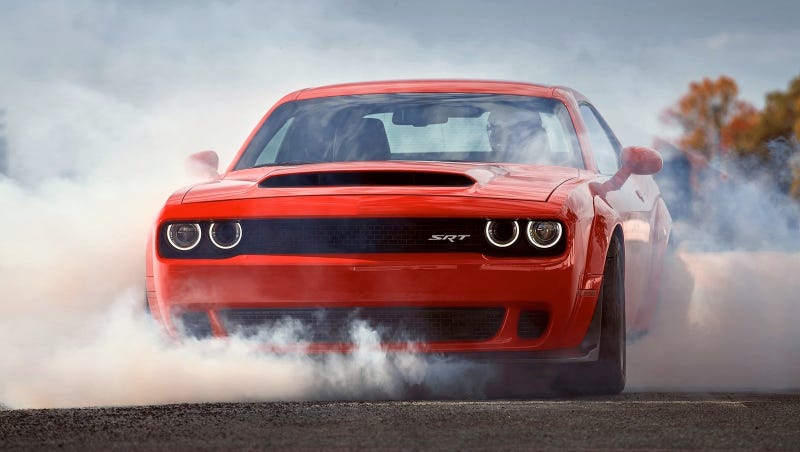 See all that burnout smoke? It's not coming from a clutch dump. You can get a hell of a lot from the 2018 Dodge Challenger SRT Demon: 840 horsepower, 770 lb-ft of torque, a massive blower, 0-60 mph in just 2.3 seconds and bragging rights over your soft, feckless Hellcat owner friends. One thing you won't get is three pedals and a stick.
Dodge's release tonight confirmed that unlike the Hellcat and several other variants of Challenger, the sole gearbox option for the Demon is an eight-speed automatic with paddle shifters. No manual gearbox can be had here. It is very sad. We suspected as much and now we know for sure.
Or is it? The Demon clearly is meant for one thing and one thing only: straight-line drag racing. And the quickest way to do that is when you don't have to do the intricate dance of shifting with your left foot and right hand; an automatic allows you to merely mash your right foot down and embrace the flood of speed and freedom and all that makes America great.
But! Dodge boasts several improvements to the eight-speed autobox over the Hellcat, where it also sees duty. From the automaker:
Internal changes include an upgraded torque converter that delivers an 18 percent increase in torque multiplication. Also, the stall speed is increased 11 percent and the lockup speed is increased.

The Challenger SRT Demon is the first-ever, factory-production car with TransBrake, which locks the transmission output shaft to hold the car in place before a standing start. This lets the driver increase engine speed up to 2,350 rpm without overpowering the brakes, resulting in quicker power delivery and up to 15 percent more torque at launch.

Driver-oriented step-by-step instructions are displayed on the instrument cluster to guide the driver through the staging process and help them keep their focus on the Christmas Tree.
And thank God for that, because I know that when I'm in the Demon, the only thing I'm focused on is that Christmas Tree—nothing else matters. Not the slow decline of the manual gearbox, not the sanctity of human life, not the idea that this much power should never be allowed to fall into the wrong hands; nothing. Just that quarter-mile time.