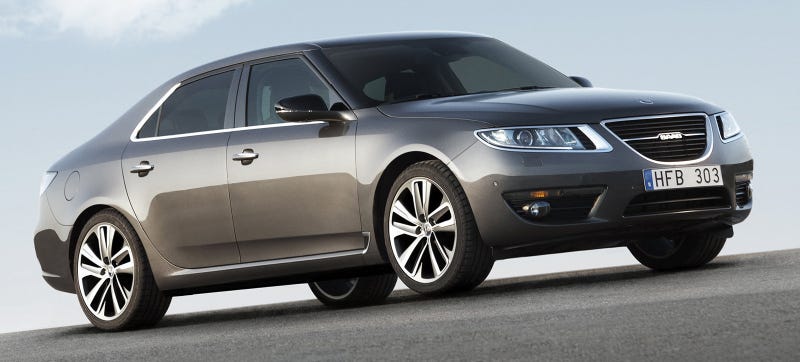 This story is not for people looking for basic transportation. It is for Jalops who, rather than buy another boring compact, would like the opportunity to get one of the last cars Saab sold in America. The good news is that even the cheapskates can now buy the most tragic of Swedish luxury cars.
For those of you who may have forgotten about the lovely 2010-2011 Saab 9-5, I can't say I blame you. It had completely slipped my mind as well until some lady passed me in one on my morning commute. There is something unique about that car that always catches me off-guard. It was the perfect luxury car for someone who doesn't want what everyone else has. Now it's the perfect luxury car for an auto aficionado on a budget.
Suppose you have around $17,000 to spend. You can't even get a base model Honda Civic LX with no options with that kind of cash, but you can get a 2010 Saab 9-5 AERO that has: all-wheel-drive, leather seats, navigation, and a turbocharged V6 engine with 300 horsepower.
This isn't some 8-10-year-old luxury car with high miles that is about three months away from annihilating your savings account. It is a six-year-old car with a little over 42,000 miles that's barely broken in!
Have look at those lines. This the automotive equivalent of a Swedish supermodel and unlike some other luxury cars of the same vintage, this styling seems to never age.
So the interior might be a little dated and you certainly aren't going to integrate your smartphone apps, but who needs Pandora when you have a heads-up-display! Just like a Viggen fighter jet.
Not only is it futuristic, but it's safe too. Check out all those airbags!
Maybe seventeen grand is still too steep for you. For less than the price of a Nissan Sentra, you could get forgo some speed and fancy features, yet keep all the style in a 2011 9-5 Turbo with about 43k miles.
Okay, there are a few downsides to this plan. First of all, finding the 9-5 of your dreams may prove difficult as Autotrader only lists 45 examples for sale throughout the country. I'm sure there are a few more floating around Craigslist and eBay, but inventory is limited.
Also, despite the low miles you have no warranty coverage, although that would also be true for almost any other luxury car of the same year. Finally, if and when stuff needs to be replaced or fixed, sourcing parts could be a little bit of challenge, though there are several dedicated online parts depots and forums that would prove helpful.
Again, this is not the car for someone looking for anappliance that they never have to worry about. This is a car for someone who likes to stand out in the crowd and is willing to roll the dice for a small slice of automotive history.
If you have a question, a tip, or something you would like to to share about car-buying, drop me a line at AutomatchConsulting@gmail.com and be sure to include your Kinja handle.