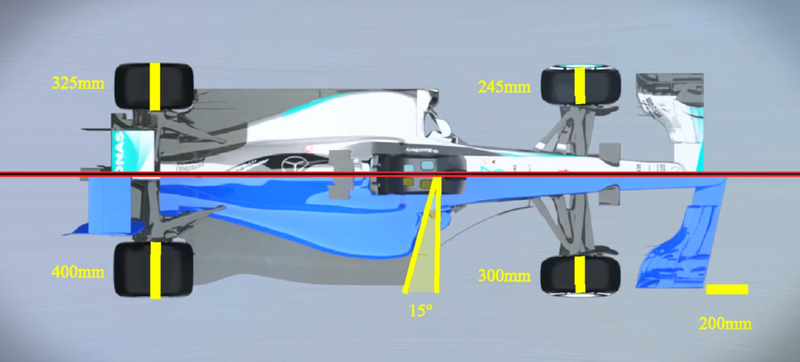 Formula One teams are already working on the 2017-spec cars based on agreed upon changes to the car's dimensions, so Motorsport.com put together a render comparing the likely 2017-spec car to this year's Mercedes car to illustrate the differences. It's a radically different car with more downforce than ever before.

Specifically, a full 30 percent more downforce than this year's cars. Meanwhile, drag is only expected to increase by 10 percent, meaning that speeds will likely increase. According to Autoblog, the goal is to make the cars approximately five seconds faster per lap.

You can read Motorsport.com's full rundown of the new dimensions here, or play the video above for a step-by-step visual comparison of what's been agreed to so far for the 2017 season.

Of particular note is the massive diffuser, which contributes significantly to the increase in aerodynamic grip.

Additionally, the front wing will be raked back into a boomerang shape (as opposed to today's rectangular wing designs). While the front wing looks cool in the render, there has been some concern about these longer, more flexible wings from a design standpoint. Force India technical director Andy Green told Auto Motor und Sport:

Due to the rake of the cars I expect the bigger and more flexible wings might touch the ground quite heavily in fast corners like Eau Rouge.
Engineers have over a year to figure out how to keep those wings from grinding too much on the ground, though, so perhaps this concern won't be an issue.

In this rendering, the rear wing endplates are angled back as opposed to straight verticals, although Auto Motor und Sport clarifies that the angled endplates aren't mandated in the rules. The rear wing can also be mounted on one or two central pillars should a team decide to do so.

Teams will have more freedom in the sidepod design as well, so we could see some interesting technical innovations there. Auto Motor und Sport reports that teams couldn't decide on a set wheelbase length, so they limited the surface area of the floor from the forward cockpit template (or B-B section) back to the rear wheels. Wheelbase length and sidepod design will be intertwined with the team's decisions in regards to the size and shape of their cars' floors.

Holding these new cars to the ground will be wider Pirelli tires. According to Auto Motor und Sport, Pirelli claims that these new meatier rubbers alone can hack off 3 seconds a lap.

As with the front wings, though, there is some doubts about the new tires. Pirelli wants to start testing the new tires as early as May, but Auto Motor und Sport says that the company has pushed back on buying or building an appropriate test rig for cost reasons. Teams are doubtful that a new tire can be successfully developed for the new cars using Pirelli's models for the existing cars.

What is the point of making the cars faster and grippier, then? According to Motorsport.com, Formula One wants to make the cars harder to drive. A more difficult car to drive can easily separate those who are great drivers from those who have just been riding around in excellent machinery.
But will it produce better racing? I'm not sold on that yet, and I'll have to see it to believe it. Formula One's aero-heavy cars are already so difficult to pass that they had to introduce a drag reduction system that allows drivers to increase their top speeds to make a pass. DRS has always felt like a cheesy gimmick to me, and "You mean they can't just pass on talent alone?" is not something that would entice more people to follow the sport.
More versus less downforce isn't a debate limited to F1. NASCAR picked a lower-downforce rules package over a high-downforce package after the high-downforce version produced some truly snoozeworthy racing. Sure, those are vastly different cars running in a completely different style of racing, but they encountered the same issue modern F1 cars have: lots of downforce often makes race cars very hard to pass.

Williams technical director Pat Symonds echoed these concerns to Auto Motor und Sport, saying that the increased downforce and smaller braking zones the new cars would have could make the cars more sensitive to dirty air and reduce the number of opportunities to pass.

F1's DRS has actually increased the number of passes, but it hasn't made them any more exciting. I'd much rather see tweaks aimed at getting the cars to run closer together for the crazy back-and-forth dicing that you see more often in less aero-dependent cars.
So, here's hoping that the engineering geniuses in Formula One can prove me wrong when these changes go into effect. Harder to drive cars are great! Faster cars are neat! Harder to pass cars, not so much.

While these changes are still scheduled for a 2017 release for now, sources indicated to Auto Motor und Sport that they may be delayed a year to roll out at the same time as a new engine formula. If the new engines won't be ready until 2018, it makes sense that the rest of the changes for F1's cars would be bumped back as well. That would give everyone over two years to work on making F1 awesome.

---
Contact the author at stef.schrader@jalopnik.com.