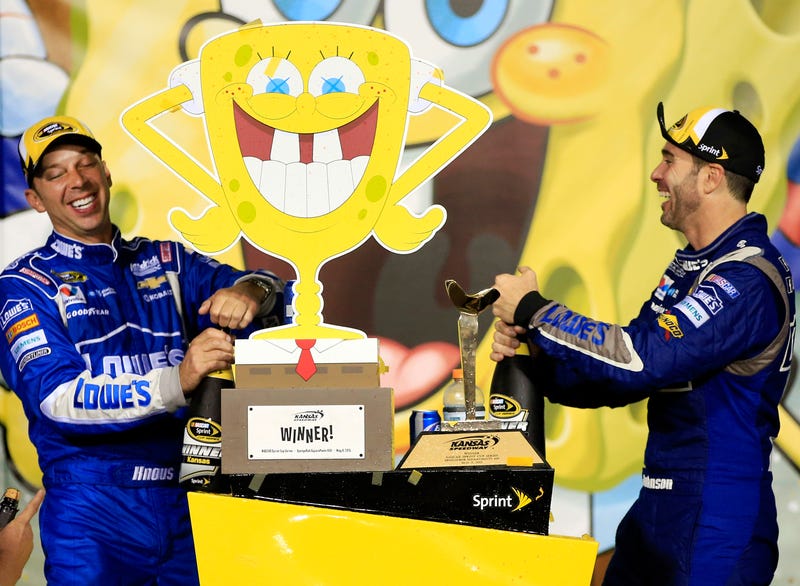 In an expensive sport like racing, being able to pull in well-monied sponsors to help put on the show is a necessity. But that doesn't always lead to great names for the events, and NASCAR races—along with other competitions—have been subject to some unfortunate and unintentionally hilarious titles in recent years.

Now, don't get me wrong here. Most race names are as normal as normal can be: sponsor, race length. Others can get a bit weird. Either way, it's still worth it to get some financial support in the first place.
But Saturday's TreatMyClot.com 300 NASCAR Xfinity Series event brought the issue of strange sponsorship back to the forefront, as the entire race and the commentary around it felt a step off beat. Clots are a serious medical issue, yes, but they're the last thing most of us probably want to think about while we're trying to watch race cars do their thing.
The "Welcome (back) to the TreatMyClot.com 300" mentions made that a bit hard to avoid, though. Not only is it kind of uncomfortable to sit through, but sponsorship that isn't made to be easily shareable could be tough on social-media exposure and general talk about events as well.
Fun fact: TreatMyClot isn't its own entity. The address redirects to the Xarelto website, which doesn't make sense. The brand is fairly well known in NASCAR due to driver Brian Vickers' blood clots and Xarelto advertisements, so a Xarelto 300 would be recognizable. If this wasn't the Internet and we could hold a show of hands, most of us would probably rather watch and hear about a Xarelto 300.
My mother works in food service selling products to restaurants, and when she gets a new account, I can usually tell whether or not the place will be successful based on its name. The name has to be one that will be appealing for people to share on the Internet and elsewhere, and it's best to avoid names like "Swamp Cookin'" and the like.
The same goes for race names. No one wants to Instagram their trip to Swamp Cookin', just like no one really wants to use the hashtag #TreatMyClot300.
A few notable ones just in recent years include:
Goody's Fast Pain Relief 500


SpongeBob SquarePants 400 (Which is, admittedly, awesome.)
Gillette Fusion ProGlide 500 Presented by Target


Heluva Good! Sour Cream Dips at The Glen


Cheez-It 355 At The Glen


MyAFibStory.com 400


Subway Jalapeño 250 powered by Coca-Cola
The last one just makes me kind of hungry.

Sponsor names are unfortunate in a number of different ways, in racing and in other sports. In recent years, the number of strange NASCAR sponsors seems to just keep increasing. Let's check out a few of the more popular ones lately.
The "We Wish We Could Put Hyperlinks On TV" Sponsors
Thanks to the Internet, an increasing amount of sports sponsors contain links. That, in itself, isn't so bad. The "GoBowling.com 400" is oddly funny, but sometimes the race names are a bit more awkward—the TreatMyClot.com 300 being one of those, if there ever was any confusion.
The TreatMyClot.com 300 is the Auto Club Speedway Xfinity Series race sponsor three years running, and GoBowling.com sponsored Sprint Cup Series races in 2013 and 2014 before taking a break in 2015. The sponsor will be back this year at Kansas Speedway in May.
If we all had televisions with touch screens that could hyperlink out to different websites, just think of how simple it would be. Instead of the clunky, sometimes obscure and medically graphic race names like the ones mentioned above, there could simply be a Go Bowling 400, a Xarelto 300 or any variation of the method.
Until the general public can afford a television that fancy, let's find some other way to do this—at very least, for the more uncomfortable website names.
The Sponsors Who Forget To Tell Us How Long Races Are, Or If We're Even Running A Race
My first NASCAR race in April 2009 at Texas Motor Speedway hooked me, and I returned to the track in November. The Xfinity Series race that weekend was the O'Reilly Challenge—which has since become the O'Reilly Auto Parts Challenge, but that same race name continues to date—and I didn't know what to think.
Perhaps I'm just a bit slow to pick up on things, but I had no clue what this "challenge" was. Was it some odd format, or a special race? How many miles would the cars run? At what lap would it end, so that I could know when crunch time came? For someone brand new to the sport, I had some major confusion.
Race names like that can be easier to follow on television due to commentators, but there tends to be less direction at the race track. As for me, I didn't know the race was over until it was over. Then, I wondered if that was just the first part of the "challenge" we had going on.
But O'Reilly isn't the only sponsor that manages to leave out a mileage number. In 2010, the NASCAR Sprint Cup Series ran a 400.5-mile race at Las Vegas Motor Speedway entitled the "Shelby American." That's it.
Perhaps Ford didn't want a "400" in the race name due to the numbers within Mustang names, but it's pretty simple to observe that the number refers to race miles—just as "Bowl" in football games refers to the type of competition.
The #Eldora, Because Baseball
This one isn't exactly a sponsor's fault, but rather, the fault of the Major League Baseball folks. The Eldora Speedway race came onto the Camping World Truck Series schedule in 2013 with a name as great as its dirt-track location—the "Mudsummer Classic." Now, it's the #Eldora. Thanks, Twitter.
The MLB claimed that the race name was too close to its "Midsummer Classic" event, and Eldora Speedway changed it for the first time this year. Despite the new, less-cool name, the track sent out a major burn to the MLB after agreeing to change the name:
We hope all of the baseball fans who traveled to Rossburg, Ohio the past three years in anticipation of the MLB All-Star Game enjoyed the race and the $2 beers.
With that kind of wittiness, we can forgive the name change.
Axalta, Why?
Related to the clunky race names from earlier, Axalta just does it all wrong. Formerly called DuPont and the origin of the historic "Rainbow Warrior" Jeff Gordon paint scheme, Axalta is now the source of some rather weird race titles.
Two years running, the Xfinity Series race at Phoenix International Raceway has gone by the name of the "Axalta Faster. Tougher. Brighter. 200."
All the periods. All the pauses. All the agony.
Later on this season, the Sprint Cup Series will run the "Axalta 'We Paint Winners' 400" at Pocono Raceway. That's slightly better, but it's not great.
There really isn't a way to fix this, other than just cutting the name to the "Axalta __." Axalta, please stop trying to be hip and cool.

Whether in recent history or from decades ago, what do you think is the most ridiculous race name—in any major series?