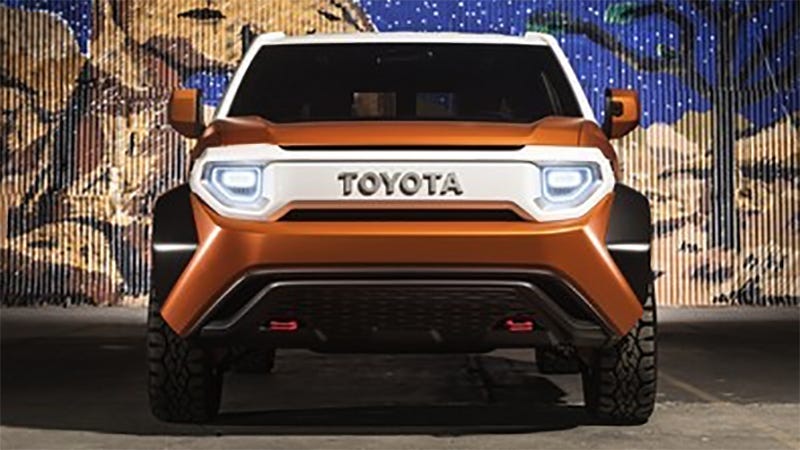 Anybody else hear that the Toyota FT-4X was setting up to be some kind of beastly FJ Cruiser successor? A potential rival to the new Jeep Wrangler and hypothetical Ford Bronco? Yeah, sit back down.

It's an insufferably enthusiastic crossover with red tow hooks.
According to Kelley Blue Book citing a press release I can't find anywhere the FT-4X, which is strictly a concept with no hope of being brought to life in earnest, is built on the C-HR crossover platform and co-branded with The North Face to appeal to #spontaneous #adventurous #youngpeople.
Gimmicks include a gauge cluster that looks like a smartphone, a storable sleeping bag that doubles as your armrest, door handles that are also water bottles (what?), a removable radio for tailgate parties, a window you can swap for clear or dark tinted glass, a GoPro integrated with the side mirror, storage cubbies and apparently four-wheel drive with low range.

Looks a little like a mashup of a Kia Soul, Honda Element and Jeep Renegade with some design elements from what I assume might have been the second generation FJ Cruiser.
But I wouldn't get hung up on any of that, because the whole thing just feels like we're being focused grouped to see if we might be interested in buying a Toyota-branded Jeep Renegade rival. Which, actually, might not be a bad thing.

Damn it, yeah, build us a Toyota Jeep Renegade! Don't hate this thing too hard because it's bitty. A fuel-efficient 4×4 with modest capability, city livability and Toyota truck quality would kind of rule and you know it.