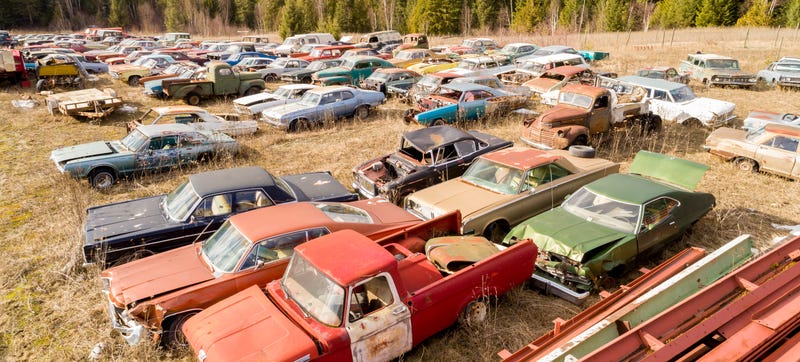 You know that saying about the things we own, and how they eventually end up owning us? For 60-year-old Mike Hall, who owns a collection of over 340 cars, this may very well be the case.

I first learned of Hall and his collection from a blog simply titled Driving. Hall is trying to sell his five-acre property for $1.45 million Canadian (approximately $1 million). Included in the property is a renovated house, a 900 sq. ft. restoration shop and a 1,200 sq. ft. steel building with enough steel beams and rafters to build 8,000 sq. ft of covered space.
Stuff like that is pretty typical to include when you're selling property—but Hall is throwing in a deal sweetener: the buyer also gets his car collection. He values his cars and trucks at costing between $500 and $35,000 each, writes Driving.
Hall's cars include a 1927 Ford Model T, 1947 Mercury Ute, Dodge Coronet, Dodge Super Bee, Pontiac Beaumont SD and 1968 Chevrolet Chevelle (restored).
In a call, Hall told Jalopnik that he's been collecting cars since he was 20. Working as a rock scaler definitely helped him, too. With that job, he got to travel all across British Columbia and saw what kinds of cars people had laying around.
Without any particular preference, the collection is comprised of just about anything that caught his eye. He gets his cars from junkyards, fields and private property. The internet has definitely helped him fuel his addition, he said.
"I see a rusty piece of shit and I see what it could be," he laughed. "That's a dangerous disease."
They don't all drive, though (Hall said that if they did, they'd all need storage). A hundred of them reside in the nearby White Post Auto Museum. Some of the others are just bodies he's been dragging around for 30 years.
Hall's property used to be an old wrecking yard that had been grandfathered in, so the zoning laws allow him to keep the cars there unmolested. That, he explained, is why he bought the property in the first place.
It was very clear that he loved his collection and worked very hard to put it together. I asked him why he was selling the property.
"Some days, they make me happy," Hall said. "Other days, I wake up asking, 'What the fuck have I done?'" He explained that he's at the point in his life now where less is more. He knows how long it takes to restore one car and he isn't going to live long enough to be able to restore them all.
"If I drop dead tomorrow, my wife is going to be stuck with all these cars," he said.
Ideally, after he sells, he'd like to keep four or five cars for himself. But even that's hard, because by the time he picks five, he's already up to 30 "favorites."
"Will you start a new collection after you move?" I wondered.
Hall laughed again. "My wife won't let me," he responded. He told me that she didn't want old cars leaking oil in her garden anymore. "She's a greener. I'm a browner," he joked.
Hall's been getting calls from people from all over the country who are trying to buy one of his cars, but he's not interested in selling them off one-by-one. If you want the cars, you gotta buy the whole package.
You can check out Hall's listing here.
(h/t to John!)