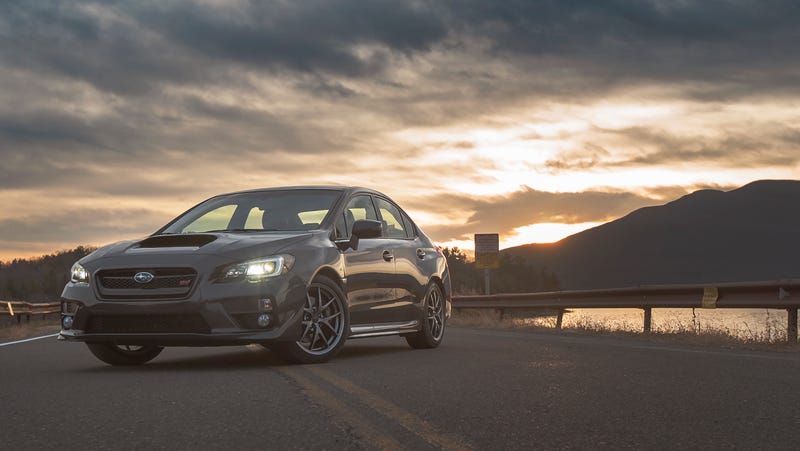 As the sun sets on Super Bowl Sunday, here's a bit of a peaceful break from your football-filled timelines and lives—courtesy of the open road and a Subaru.
This weekend's wallpaper is from Jalopnik's own Jared Auslander, who recently got the chance to compare his 2005 Subaru Baja with a 2016 Subaru WRX STI. He came to the verdict that it's very much a car geared toward track enthusiasts more so than it is a street car, though it could easily be a daily driver. (And that his 2005 Subaru is almost as awesome as the new WRX STI.)
http://jalopnik.com/my-stanced-and…
And while Subarus never look quite this peaceful—usually, they're out doing snownuts (or regular donuts) or dominating rally championships—the WRX STI rocks the serene look quite well. Whether Subarus are tearing up the rally course or posing for our wallpaper shots, they do a decent job of it.
The whole theme of Subaru is "love" these days, right? Love yourself. Love your wallpaper. It fits nicely. If you've got a photo or two of your own that you love—and would love to submit for a weekend wallpaper post—feel free to send them to the email address below. Until then, enjoy the football game this evening.
Photo credit: Jared Auslander/Jalopnik. Used with permission. For a big desktop version, click here.
---
Weekend Wallpapers are usually featured on Sundays, (but not always!). Got one you'd like us to run? Send it to alanis.king@jalopnik.com with the subject "Weekend Wallpaper." Just make sure you have the rights to use it.